About Me
Since leaving the world of corporate finance, I have been an advocate of social empowerment through public policy transformation.
I believe that the measure of a nation's prosperity and success, rests in the network of its society. In my work, I challenge entrenched beliefs and present the notion of social capital as the core driver of economic prosperity. I am optimistic about governments bringing about transformational change.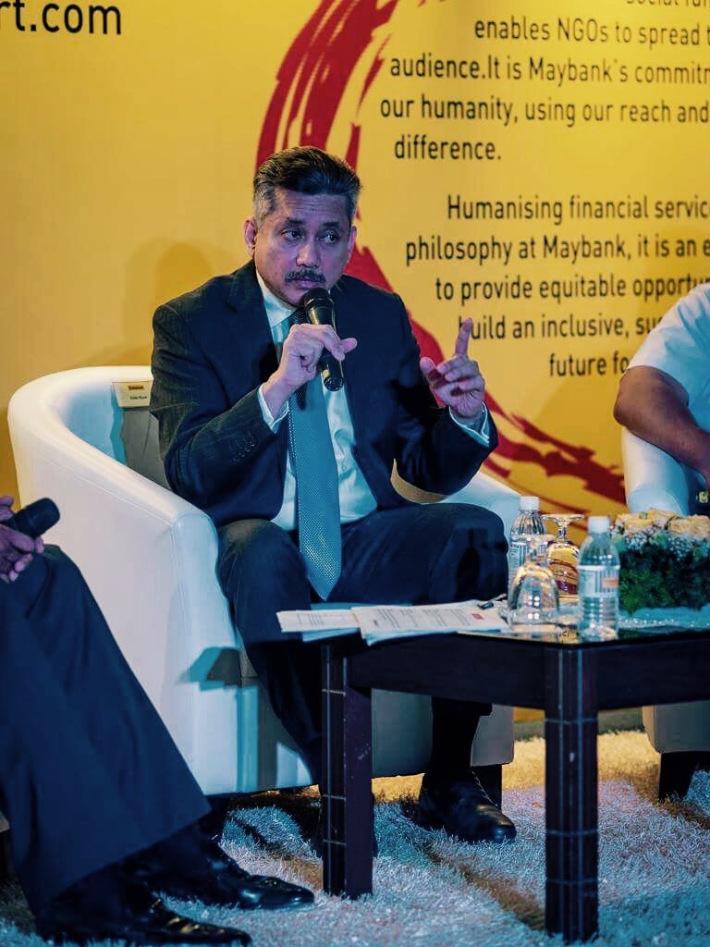 Career
I am currently with Eden Strategy Institute, Singapore, providing advisory and professional consultancy services internationally for governments and corporations, on policy and innovation. My work at present sees me operating within Saudi Arabia, to develop and strengthen the kingdom's social ecosystem under the auspices of its Vision 2030. Prior to this I was Executive Vice President at the Innovation Agency, a Malaysia government agency under its Prime Minister's Department. Before that I was the founding CEO of the Malaysian Investor Relations Association that was set up by Bursa Malaysia stock exchange and Securities Commission Malaysia. Before that I was Finance Director of a public-listed company and Group Advisor of another public-listed company doing corporate finance, mergers and acquisitions, and investor relations. Earlier I was with two major multinationals in regional telecommunications with Lucent Technologies, and in oil & gas with Shell Malaysia, in various roles in finance.
Academics
I was a Lee Kuan Yew Fellow at the John F Kennedy School of Government at Harvard University. I obtained a Master in Public Policy degree from the National University of Singapore under a Singapore government scholarship. I have a Bachelor of Science degree in Finance and a Bachelor of Science degree in Management Science & Statistics from the University of Maryland in the US.
interests
I love cycling the roads and hill trails of Kuala Lumpur as much as I love imparting my knowledge to sector leaders and policymakers on speaking engagements.  I divide my free time equally between following global tech trends, world history, and international politics.
Companies & People I've Worked With
Agensi Inovasi Malaysia
Ministry of Economic Affairs
Ministry of Labor and Social Development (Saudi Arabia)
Malaysian Investor Relations Association
Asia Venture Philanthropy Network (Singapore)
The Edge Communications
Pricewaterhouse Coopers (UAE)
Jabatan Perdana Menteri
Unit Kerjasam Awam Swasta
King Fahd University of Petroleum and Minerals (Saudi Arabia)
Investor Relations Society (UK)
Bursa Malaysia Berhad
Securities Commission Malaysia
Social Innovation Exchange (UK)
Social Progress Imperative (US)
Global Steering Group for Impact Investment (UK)
Organisation for Economic Co-operation and Development (Korea)
Lee Kuan Yew School of Public Policy, National University of Singapore (Singapore)
John F Kennedy School of Government, Harvard University (US)
Social Investment Conference Riyadh, Saudi Arabia (Apr 2019)
Russian-Asian Urban Management Conference Singapore (Jul 2018)
Asia-Pacific Regional Volunteer Conference Kuala Lumpur, Malaysia (Nov 2017)
UNDP Responsible Business Forum Singapore (Nov 2017)
Societal Leadership Summit Singapore (Oct 2017)
Social Enterprise Leaders Forum Seoul, Korea (Jun 2017)
Social Economy and Investment Conference Kuala Lumpur, Malaysia (Mar 2017)
Asia Policy Forum on Social Economy  Hong Kong, S.A.R. (Mar 2017)
Non-profit Organization Forum Riyadh, Saudi Arabia (Dec 2016)
Global Fundraising Conference Shenzhen, China (Sep 2016)
Asian Forum on Corporate Social Responsibility Nay Pyi Taw, Myanmar (Sep 2016)
Asian Venture Philanthropy Network Conference Hong Kong, S.A.R. (May 2016)
Asian Public Governance Conference Seoul, Korea (Nov 2015)
Global Social Economy Forum Seoul, Korea (Nov 2015)
Social Innovation Exchange Berlin, Germany (Jun 2015)
Asian Venture Philanthropy Network Conference Singapore (Apr 2015)
Governments & Social Investment Dialogue London, United Kingdom (Nov 2014)
Social Enterprise World Forum Seoul, Korea (Oct 2014)
ASEAN Forum on Social Entrepreneurship Singapore (Oct 2014)
Get In Touch
Email me contact@eddierazak.com to share your ideas and thoughts.
You can follow me on Twitter and LinkedIn